Balloonies Slot Machine Review
Oh. IGT. You are a company which really gets what we want from a slot machine, and you seem to have done it again with the Balloonies slot. The Floating Reels feature is epic. Of course, it also helps that the game looks stunning.
How to Play Balloonies Slot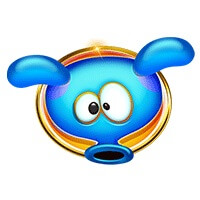 The Balloonies slot offers 5 reels and 20 paylines. The minimum bet per spin is 20p. The maximum bet is £60. To us, a low minimum bet like this makes the game a whole lot more accessible to those new to slot machines. Of course, it is not so low that the jackpot on the machine is mediocre. In fact, the jackpot is very delicious if you can hit it.
The theme of this game is simple. Balloon animals. This means that the game has a very cartoonish look to it. We know that some players out there are turned off by games which look cartoonish, but don't fret. This is the good type. This is the type which is eye-pleasing, not one of the lazy efforts that other companies out there make. Yay, IGT!
The only thing we don't really love about the theme is the soundtrack. It is just the same beep that continues over and over. We can imagine that without the slot machine there, that solitary beep could be used as some form of torture. Any who, we digress. The theme is all right.
As you may expect from a game that is simple in design, it is also simple in gameplay. There are some features that crop up that you may not find on other slot machines, but IGT have made them as simple to understand as possible. This certainly beats other slot machines out there where it feels like you need a degree in rocket science to understand what is going on. We particularly love the fact that you do not need to tinker with line bets. Anything that you bet on Balloonies will cover all potential win lines.
Baloonies Slot Features
The main feature on the Balloonies slot machine is called 'Floating Reels'. Now, as you play this slot machine, you will notice that the reels do not act like reels. Instead, they act like balloons they just…float away. Cool, right? We thought so, and we are not easy to please!
Now, this is where things get even cooler, well, as cool as a game about balloon animals can get. When you get a winning combination, the balloons will pop. This will cause the balloons below them to float up and take their place. This can lead to even more combinations. It is common to get 2-3 wins on just a single spin!
The other feature is a 'star symbol'. This just acts as a multiplier. The multiplier can be 2x, 3x or 5x. If you get 2 stars, then they will be added together. So, say you got two lots of 5x multiplier. Your multiplier will now be 10x.
The final feature is the Free Spins Bonus. This is triggered if you get 3 red balloons on the reels (96 more and you could probably make a 'one hit wonder' song). When the balloons pop, you will be awarded up to 12 free spins. The multiplier bonus is active when you play.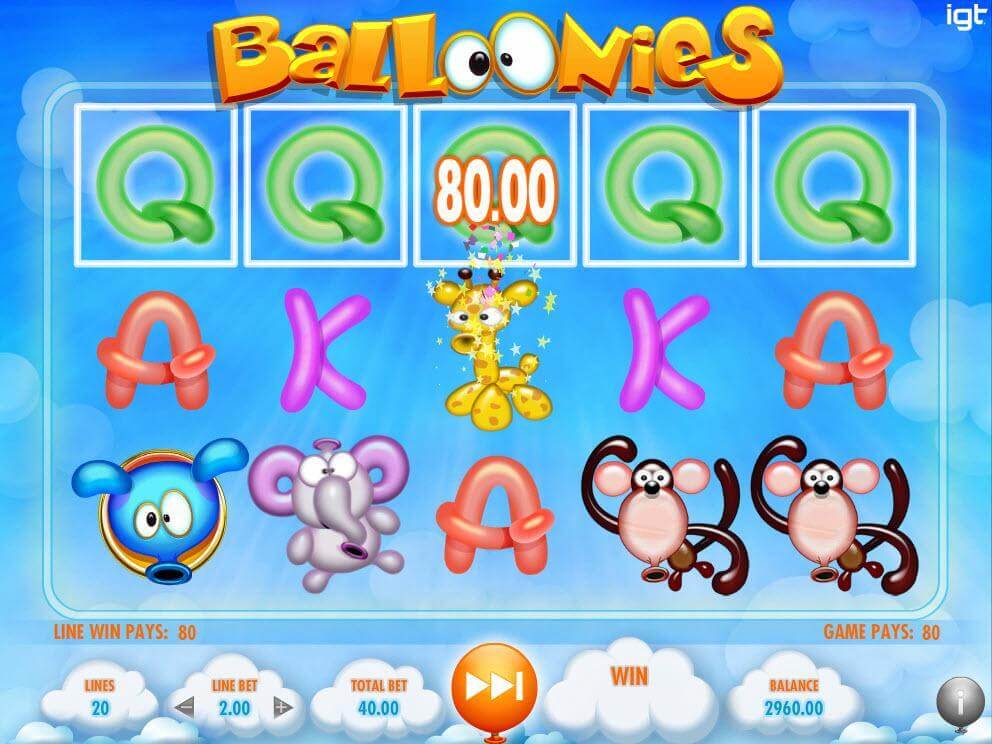 Balloonies on Mobile
As you may expect, the Balloonies slot is a game which translates very well to mobile devices. This is, in part, down to the cutesy graphics. It has somewhat of a 'Facebook game' feel to it. IGT have done us proud with this game. It looks visually gorgeous on even the smallest of devices, and the gameplay is so smooth.
Is Baloonies Slot Worth Playing
The Balloonies slot machine is visually appealing. It just draws you in. However, beneath that cool exterior is a fabulous game. A game which boasts excellent gameplay and features galore. We feel as though the Balloonies slot is going to be suitable for both beginner and experienced players.
This is very rare for a slot machine, they either cater to one or the other. This is a game that we can have spin after spin on, and never feel like we are getting bored. You can play the Balloonies slot machine on IGT websites. Because we love you a lot, we have put together a list of some of the best places to play right here. This will save you having to head to some terrible websites. Check out the best casino sites to play Balloonies slot below.
Play Now at The Latest Verified UK Casinos