Bikini Party Slot Review
It is the midst of winter as we write this review. The theme of the Bikini Party slot machine has us itching for the summer months to roll around. Of course, this slot machine is going to fill the void between now and then. We may even earn us some money for summer!
How to Play Bikini Party Slot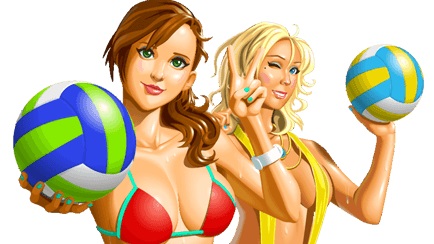 The Bikini Party slot was developed by Microgaming. It offers 5 reels and over 243 ways in which you can win. The minimum bet per spin is 25p and the maximum bet is £125. There is a way in which this can be increased…sort of. We will cover that in the next section, however.
This slot machine is based around a volleyball beach party. Of course, the main characters of the game are kitted out in bikinis. No idea why. They just are. The game does look rather decent here. The theme is not that extravagant and we know that Microgaming have produced better than this, but there are no real complaints about the overall look of the game. We certainly have no complaints about the soundtrack that the game boasts.
As with other Microgaming slot machines, this one has been designed to be simple to play. It must be. Simple games are what make money. One of the things that we really love about Bikini Party slot machine is the fact that you do not have to mess around with pay lines or anything like that, this makes it perfect for a beginner. You just set the amount you want to bet and away you go! Simple stuff!
Bonus Rounds & In Game Features
There are two features in this slot machine. As we mentioned at the start, one of them allows you to slightly increase the amount you spend per spin…in theory.
In normal slot machines, you hit that spin button, sit back and just hope that you score a win. You won't get another shot. In Bikini Party, that is not the case. When you spin, you will have the opportunity to respin any reels which you are not quite happy with. Of course, this is going to come at a cost. The bigger the chance you have of winning when you respin one of the reels, the more money you are going to need to shell out for it. This is, of course, going to require some analytical skills on your part. You will need to determine whether you really should stump up the cash to try and win. This is part and parcel of gambling, however.
The second feature is one that you are going to be a bit more familiar with. This is the Free Spins feature. When you get 3 or more volleyball scatters on the reels, you are going to get fifteen free spins. The best part is that during these free spins, any wins that you get are going to be multiplied by three! We have seen people win pretty big when they take advantage of this feature. In addition to this, you will be able to trigger a further 15 free spins during this game mode. Sadly, the multiplier is not going to go up during that feature, but that is fine. A multiplier of three is going to be enough!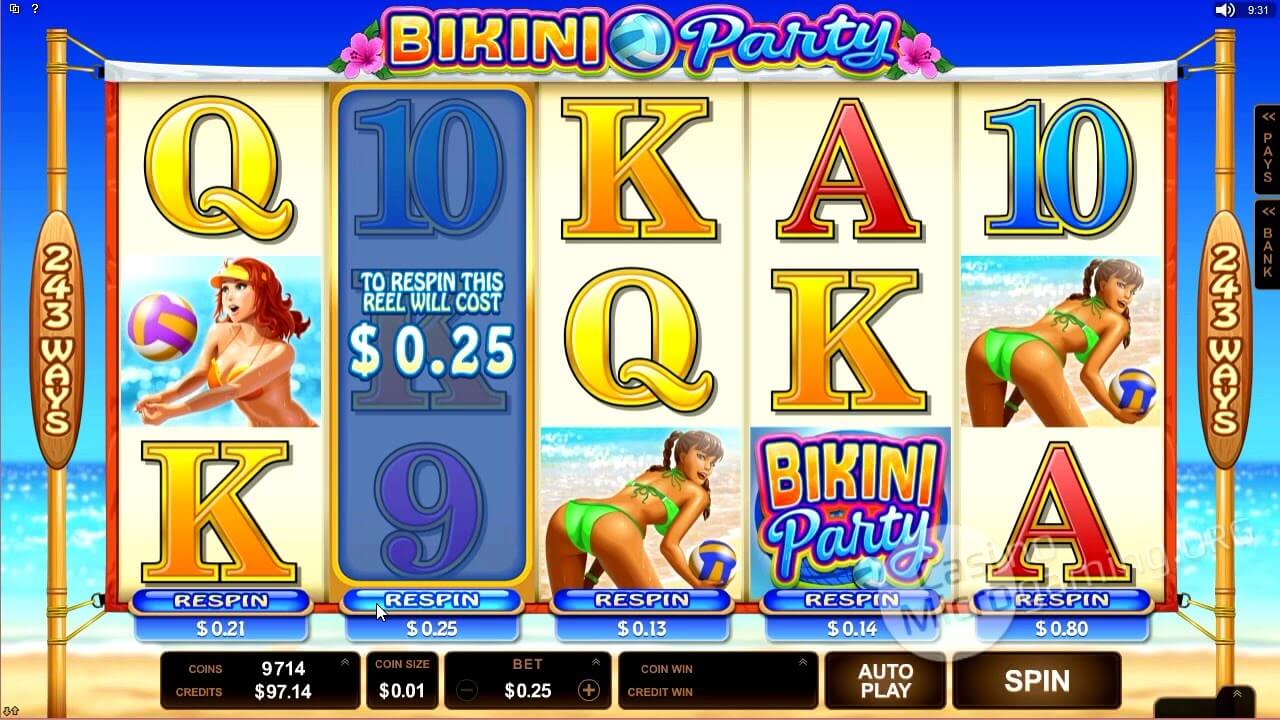 Bikini Party on Mobile
If you enjoy this machine, then you will almost certainly enjoy the Bikini Party mobile slot machine. It looks just as brilliant as the full version of the game. In fact, this seems like a game which was pretty much built for mobile devices. It boasts clear clarity, awesome music, and smooth gameplay. Of course, the desktop version is always going to be better in most cases because you can do other stuff on your computer while you are trying to net some wins, but it is great nonetheless!
Is Bikini Part Slot Worth Playing?
We won't lie, the 'respin feature' initially put us off of this game, even when we played the demo version of it. This is because the cost seemed to be so high for what was just a simple respin.
However, we tried it out a couple of times and the potential to win is huge. Of course, you won't be using it constantly, but it is great to have a slot machine which has a touch of uniqueness about it from time to time! You can play the Bikini Party slot machine on any website which offers Microgaming slot machines, seeour top casinos offering the best casino bonuses below!
Play Now at These Trusted UK Casinos