Guns N Roses Slot Review
Based around one of the most influential rock bands in the world, this Guns N Roses Slot Game from Netent has it all. Music, fun, and the chance to win huge sums of cash!
How to Play Guns N' Roses Slot
Guns N' Roses are easily one of the biggest rock bands in the world. They have given birth to hits such as Sweet Child O' Mine, Patience, and Welcome to the Jungle. With them back on tour for the first time in over twenty years, it only makes sense that the 'king of brand name slot machines', Netent, would create a slot machine based upon them. It is every bit as brilliant as you would expect
Obviously, the symbols in this game are all going to be based around the Guns N' Roses brand. This means that you will be enjoying pictures of Slash, numbers adorned with roses, an Appetite for Destruction wildcard, as well as a few bonus symbols. You will be playing across five reels with twenty different paylines. The minimum bet is 20p and the maximum bet is £100 per spin.
One of the things that we really loved about this slot machine is the fact that it is so well-themed. Put aside the symbols for a while and you will be pleased to know that this is still a machine that is themed well for the Guns N' Roses lover. As you play, you will be taken through a journey of their greatest hits. This means "Welcome to the Jungle", "Sweet Child O' Mine", "Paradise City", "November Rain" and "Chinese Democracy".
They are the complete songs too. Sure, you could just flick on Spotify and listen to them if you really wanted, but it is great that they are built into the game! For the most part, the game is going to be dreadfully simple to play. Just spin the reels and hope for the best.
Of course, there are a few extra features built into the machine (which we are going to discuss soon!), but none of them are so complicated that you are going to be at a loss when it comes to understanding them. In fact, you should be able to nail what each feature means in just a few short minutes. It even gives you all of the instructions that you need before you jump into the game. This means that you are constantly going to be educated!
Guns N Roses Slot Game Features
There are a few features built into the Guns N' Roses slot machine from Netent which you are really going to love. In this section, we are going to cover them:
Wild Symbol: this is the symbol that you are going to see the most on the Guns N' Roses slot machine. The wild symbol can appear on all reels apart from the middle one. The symbol is the logo from the front of the Appetite for Destruction album, which I am sure that the majority of people out there are familiar with! The wilds are an expanding wild which cover the whole reel, which means when one of them pops up, you have a pretty decent chance of scoring a big win.
Legends spin: this is randomly triggered in the game. Here you will get three re-spins. One of the major benefits of this feature is that the reels will be stacked at the time. During the first spin, the third reel will be a stacked reel, on the second, it will switch to one and five. On the third, it will switch to two and four. You could win big in these cases!
Solo Multiplier: this is another feature which can occur randomly. When you get this, a random payline will be selected and the multiplier will bump the winnings on that particular payline up from between 4x to 10x. This means that the winnings will be cranked up. This will only appear on paylines where wilds are not playing a role.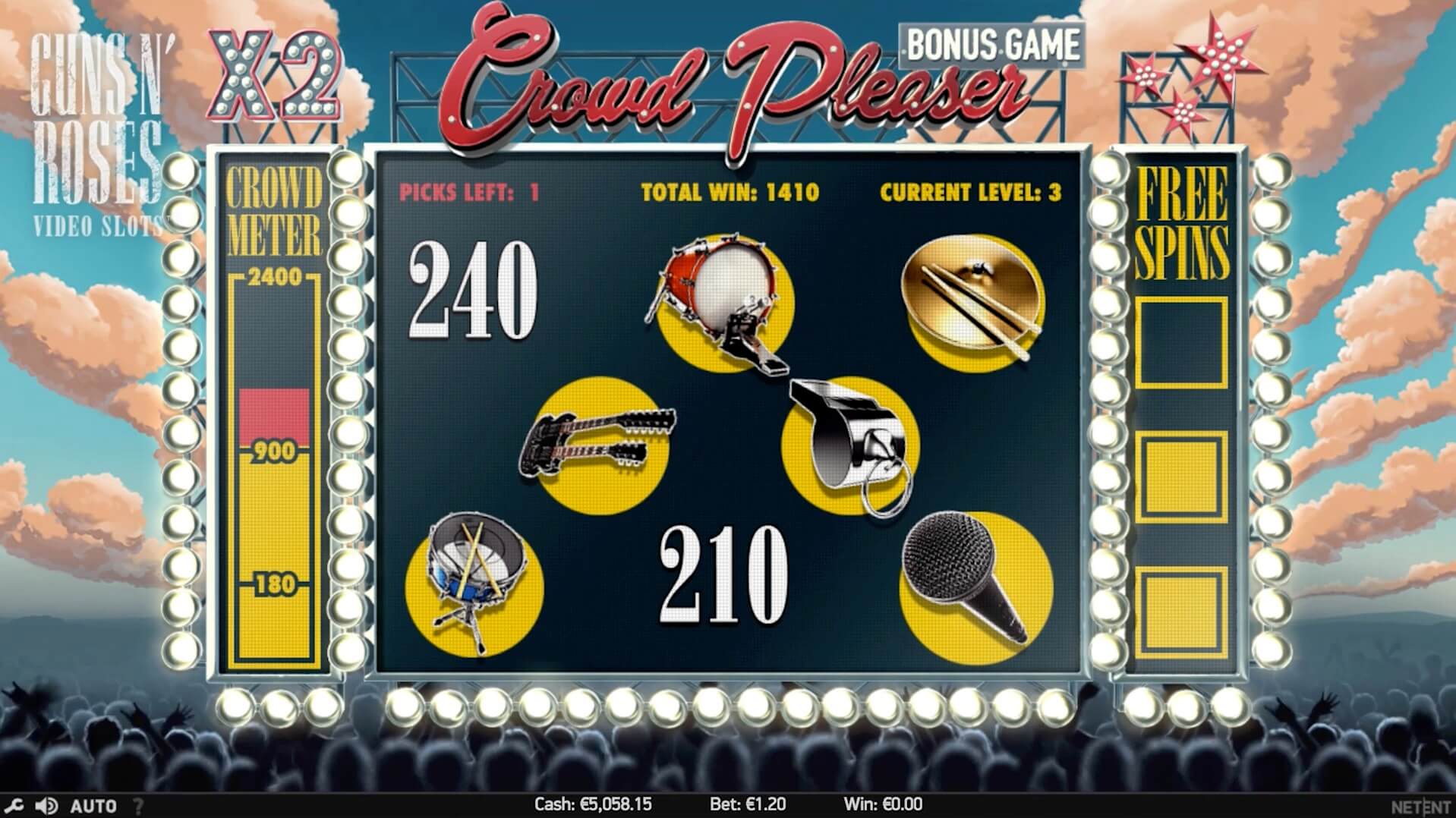 Guns N' Roses Mobile Slot
As with the majority of other Netent games, you will be pleased to know that you are able to play Guns N Roses Slot on your mobile device. That makes it perfect for your commute to work. Not only will you be able to listen to some pretty brilliant music, but you are going to rake in those winnings too!
Is Guns N Roses Slot With Playing?
Guns N Roses Slot is absolutely perfect for those who are new to the world of slot machines but still want something which is fully involved. There are instructions each and every single step of the way. This means that you are never going to be at a loss when it comes to what you need to do. For the most part, you just need to spin the reels and wait for that money to come in. It is simple as pie.
Of course, the Guns N' Roses theme really helps and all of the features help incorporate an image as if you're watching the band live! Perfect for Guns N Roses fans or not, we doubt there's anyone who wouldnt like this slot. If you are looking for some pointers of you fancy trying one of the best and newest casino sites out, then don;t miss our top list of UK casinos which offer this game, and so much more, below!
Play Now at These Verified UK Casinos