Mega Fortune Slot Review
Dishing out a jackpot of £17.8 million back in 2013, the Mega Fortune slot holds the reputation of being one of the 'richest' slot machines online. Can you hit that jackpot too?
How to Play Mega Fortune
The Mega Fortune slot machine from NetEnt is a 5 reel, 25 payline slot machine. The minimum bet is 25p per spin with the maximum bet sitting at £50. This is a progressive slot machine, which means there is plenty of cash on offer should you hit that jackpot. In fact, if you hit that jackpot, you could earn millions of pounds. Not too shabby, right?
As soon as you jump into the game, you will see that this game has been designed to highlight cash. The theme of the game is based around the things that you can afford should you become a millionaire. This means gorgeous limousines, cufflinks (expensive versions, not the terrible versions you may find in your local supermarket), diamond encrusted watches, cigars, alcohol, and cash. Basically, the game loves to tease you!
We can't say that the soundtrack to the game really encapsulates the expensive lifestyle. However, the soundtrack is easy to listen to, so we do not really have any complaints here. When you jump into the game, you will be greeted with a world of information. The key pieces of information can be found at the top. They will tell you what the jackpot is currently sitting at. Unless it has been won recently, the figure is likely to be into the millions of pounds. You could be just a single spin away from that!
The only thing you must 'set' before you hit that spin button is the number of lines you want to play. You can set the coin value, then hit that spin button. You can auto play the game, but we do love the thrill of pressing the spin button on progressive slots. It makes us feel like we are doing something if we are lucky enough to hit the jackpot.
Mega Fortune Game Features
There are a few features built into the Mega Fortune slot which are worth highlighting:
Free Spins Feature: you will probably be triggering this more than the 'bonus round' of the game. You will need to get 3 or more of the champagne symbols. You will then be asked to select one of these symbols. This will tell you the number of free spins you can get, as well as the multiplier. The maximum number of free spins is 10 and the maximum multiplier is 5x. You can trigger more free spins.
Mega Fortune Bonus: if you get 3 bonus symbols on the reels, you will be given a chance to qualify for the progressive jackpot. You must spin a wheel. There are a number of symbols on the reels. You have cash prizes and arrows. Your goal is to hit the arrows. The further you move into the centre of the reel, the closer you get to a life changing sum of cash.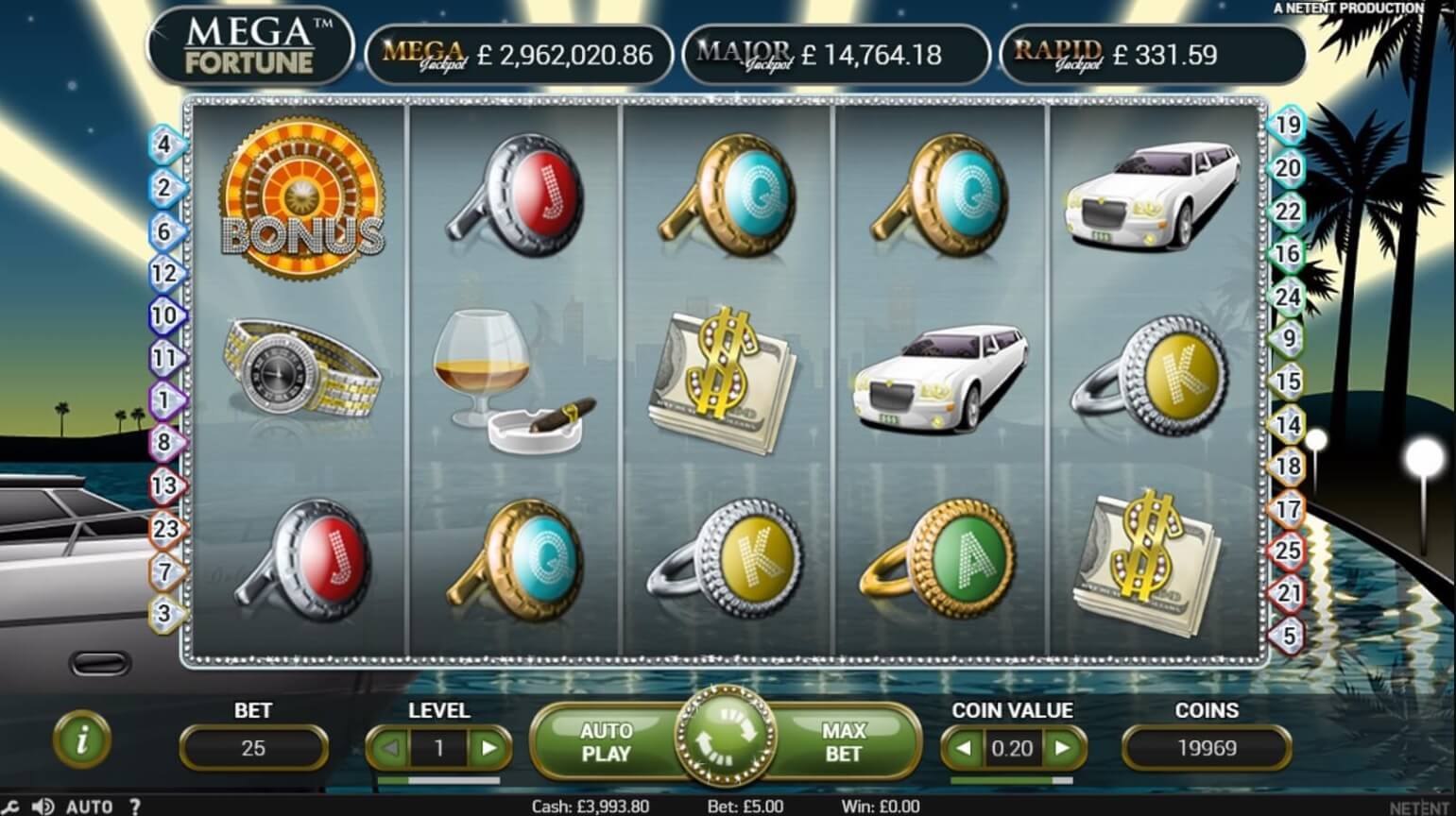 Mega Fortune on Mobile
In addition to the desktop version, there is also a Mega Fortune mobile slot machine available. The mobile version of the slot machine shares the same progressive jackpot as the desktop version. This means that you could head to bed at night, boot up your tablet computer, and perhaps become a millionaire! We have played the Mega Fortune mobile slot extensively and we must say that it is one of the better perform mobile games out there. We are sure you are going to love it!
Is Mega Fortune Worth Playing?
While we never expect to win the progressive jackpot on a slot machine like this, there is something there that just keeps us playing. Perhaps it is the fact that the opportunity to win is there. Perhaps it is the fact that even if we do not pull a Del Boy and become a millionaire (eventually, although we are sure we could keep hold of the cash if we did!), the game is still tons of fun. The smaller wins do seem to come through with a great deal of regularity. This keeps us hooked. The game is not overly complex too, which makes it perfect to pick up and play. For that reason, we have no hesitation in recommending that you give the game a spin!
You can play the Mega Fortune slot machine on any website which offers NetEnt games. They shouldn't be too hard to track down, as most gambling sites these days offer Netent game s- like, literally all of them! That's an indicator of just how good Netent really is. On that note, to save you some time, why don't you check out our top casino site recommendations below!
Play Now at These UKGC Licensed Casino Sites
Full T&Cs apply. New players only. Max bet £5. 11 Fun Spins for registration (max withdrawal is £100). 50% up to £499 bonus + 100 Fun Spins on 1st deposit. 50% up to £499 bonus on 2nd deposit. No max cashout on deposit offers.