Spud O'Reilly's Crops of Gold Slot Review
Do you have the 'Luck of the Irish'? Jump into the Spud O'Reilly's Crops of Gold slot machine and find out. With fantastic graphics and a bonus round with a huge payout, you are going to love this game!
How to Play Spud O'Reilly's Crops of Gold Online Slot Machine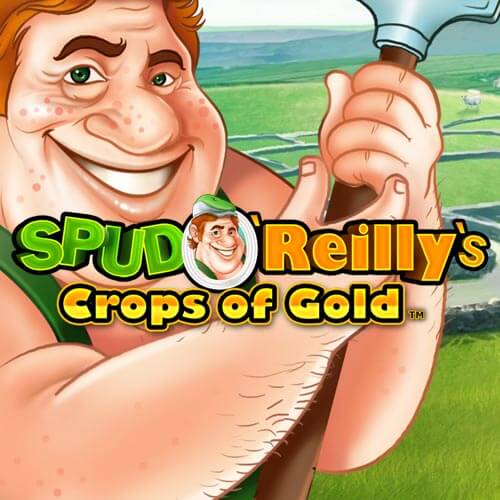 The Spud O'Reilly's Crops of Gold slot machine has been designed by Playtech. It offers 5 reels across 20 different paylines. The minimum bet per spin is 1p, with the maximum bet being £2,000. Of course, in order to play at the 1p level, you will only need to be playing a single payline. This isn't worth your while so we do suggest that you try to avoid that as much as possible.
We love the theme of this game. The graphics are cartoony and colourful. They are surprisingly pleasurable to look at. In this game, you will be playing on 'Spud O'Reilly's' farm (he is the central character). This farm is, of course, in Ireland. Symbols include tractors, the central character, his wife, a sheep, potatoes, and some Guinness. Basically, traditional Irish stuff. Stereotypical Irish stuff I hasten to add, but traditional.
The soundtrack to the game is Irish music (obviously) and it sounds great, even if it does end up getting a little bit repetitive from time to time. Most of your wins are actually going to come away from the base game. We will cover those bonus features in a short while. For now, all you really need to know is how to play the game.
Once you load up the slot machine for the first time, you will be able to set the number of win lines you wish to play, as well as the amount you wish to spend per line.
The amount you bet will be your win lines multiplied by your line bet. So, if you are betting £0.01 on 20 win lines, then you will be paying 20p per spin. We never recommend that you bet on less than 20 win lines. It will hurt to see winning symbols appearing and you not being able to claim on them!
Spud O'Reilly's Crops of Gold Game Features
There are two features in the game that you need to be aware of. You will be triggering these at a fairly regular rate:
Sheep Shearing Bonus: You can't have a game based around a farm if you do not get the opportunity to shear sheep. If you score 3 sheep symbols on the first three reels, then this mode will be triggered. You just have to shear sheep. Each sheep that you shear has a cash prize. The number of sheep you will be able to give a haircut to will be dependent on the number of sheep symbols that appeared. So, if you managed to get 3 symbols, you can shear three sheep.
Free Games Feature: This slot machine also offers free spins. In order to activate the free spins, you will need to get at least 3 'Lucky Clover' symbols on the machine. If you do, you will instantly receive 10 free spins. Your free spins will be subject to a 3x multiplier. You will be able to trigger more free spins as you play the slot machine. In theory, you could trigger an infinite number of free spins. Most people seem to cap out at 20, though.
Spud O'Reilly's Crops of Gold on Mobile
As with other Playtech games, you will be able to play the Spud O'Reilly's Crops of Gold slot machine on mobile devices. It works on both mobile phones and tablet computers. The cutesy cartoon graphics lend themselves incredibly well to that format. Since there does seem to be a lot going on, the machine does work best on tablet computers with larger screens. That being said, we have played the game on many mobile phones and never had any issues. You just have to be aware that everything is going to be a great deal smaller.
Is Spud O'Reilly's Crops of Gold Slot Worth Playing?
This game is fun to play. We love both the bonus features and it is clear that Playtech have put a lot of thought into the Spud O'Reilly's Crops of Gold slot machine. As you will probably know, we are a sucker for free spin games. To us, it just seems like 'free money'. We love the fact that the game offers plenty of free spins. We also love the fact that your wins are going to be multiplied during those spins (again, awesome free cash!).
We recommend this slot machine to beginners as these features are both ones that you will discover in more 'intense' slot machines out there i.e. free spins and pick an object. It will allow you to get to grips with them in a less-confusing environment. You are able to play the Spud O'Reilly slot machine on any website that offers Playtech games. If you are stuck for places to play, then you will find plenty of suggestions on this website.
Play Now at These Trusted UK Casinos